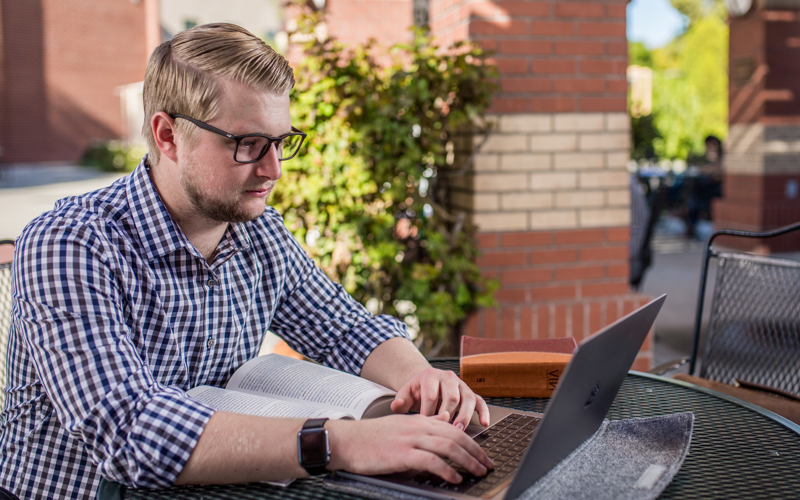 Biola University's Online bachelor's degree tuition and costs include an application fee, tuition, enrollment deposit and more. See the table below for more information.
| Fee type (2019-2020) | Cost |
| --- | --- |
| Tuition (per credit for major and biblical studies courses) | $592 |
| Application Fee (one time fee) | $45 |
| Enrollment Deposit (one time fee) | $100 |
| Books/Course-packs (per term, approximately) | $200-400 |
Financial Aid Process
At Biola, we strive to do everything we can to make paying for your education easier. There are many different sources of financial aid available to Biola students. As one resource alone is not enough to cover the costs of your education, it is important to view financial aid as a package comprised of multiple resources.
Complete the FAFSA

This is the starting point for determining eligibility for state and federal aid. Completing the FAFSA does not obligate you to take out a loan.

Note: It is advised that you fill out your FAFSA form (fafsa.ed.gov) early in the admission process. Be sure to include Biola University's number (001122) on the form. Once that is received our Office of Financial Aid can begin the process of helping you find the aid you need.

Regularly check your mailbox, email inbox and myaccount.biola.edu

Look for requests for any additional information from the Office of Financial Aid.

Review your award letter

The Office of Financial Aid will send you an award notification once all requested information has been submitted. Notification can take up to six weeks from the time of file completion, but is typically much sooner.

Complete any Financial Aid tasks

Complete any assigned Financial Aid Tasks found in myaccount.biola.edu
Summer 2020 new students! We are waiving the application for the Biola Online Opportunities Scholarship. If you submit your enrollment deposit by May 4th and are enrolled in at least 6 units (half-time) you are eligible to receive one of forty $500 scholarships.
Learn About Our Process
Looking for more information about our financial aid process, or have questions about our tuition? Contact the Office of Post-Traditional Admissions by phone or email.
Note:
Federally mandated criteria to be considered a "full-time" student for financial aid purposes is 12 credits per trimester (four total courses, two courses in session A and two courses in session B). A student is considered "half-time" at six credits per trimester (two total courses in both sessions combined - two in one session or one in each session). Students must be at least half-time to access most types of state and federal aid including federal loans. Some private lenders will provide loans to students who are less than half-time. Students in post-traditional programs at Biola University are not eligible for most types of institutional financial aid.